Cherrapunjee – Cherrapunjee Holiday Resort
Cherrapunji
Cherrapunjee is located in the Indian state of Meghalaya. Cherrapunji, about 4,26 feet above sea level, receives the heaviest rainfall in the world. Sohra is the local name of Cherrapunji, the seat of Khasi literature and culture that developed around Cherabazar. In Cherrapunji, there is a handful of clouds with a beautiful hill shape. Somewhere narrow mountain roads and somewhere deep ravines, in the game of hide and seek of clouds on the hills, anyone will get lost in this state of amazing beauty. It takes only 2 hours to reach Cherrapunji from Tamabil border point in Sylhet. Enjoying the rain of Ashar or Shravan here is like a dream for any travel lover.
Cherrapunji is a place of interest
There are several places worth visiting in Cherrapunji, Meghalaya, India. On the way to each place, you will see various fascinating fountains and there is a handful of mountains.
Cherrapunji Village: There are various hill settlements and orange groves. You will see the kingdom of clouds rising over the mountains. There are also limestone caves.
Mausinram: It gets the most rainfall here. The rainfall is about 2300 mm per year. There are natural caves called Kremmaozumbui, Jabrem, Khreng Khreng Rock and Ritmansi View Point.
Stalag Madhai Stone Shivalinga: This is a wonderful forest ancient cave whose length and depth are still unknown. There are several monolithic pillar arches at the entrance.
Double Decker Route Bridge: Here you have to climb the stairs 2,500 feet and then go down again in the afternoon. On foot you will see jungles, waterfalls, rivers and a beautiful living route bridge over the river. Here the fatigue of the path can be removed by bathing in the fountain.
Nohkalikai Falls: This is the second highest waterfall in Asia. This spring takes a very beautiful form in the rainy season. There are opportunities for trekking but this only allows for a few months of winter.
Ramakrishna Mission: There are schools, temples and museums here. You will also find Ramakrishna Mission houses and ethnographic museums.
Mosmai Cave: This cave is known as a ghostly environment. Many people say that it is possible to go to Bangladesh through this cave tunnel.
Mosmai Falls: One of the special attractions of Cherrapunji is Mosmai Falls. Located about 6 km from Cherrapunji Bazaar, this waterfall is the 4th highest waterfall in the world.
Mockdock View Point: Climb the stairs to see the waves playing in the mountains.
Thankharang Park: A park with greenery and coolness all around.
Kalikai Falls: A variety of orchids and colorful butterflies make the environment around the waterfall more attractive. If you go here, you will get lost in the infinite beauty of nature.
There are also some other attractions like Rainbow Falls, Seven Sisters Fountain, Eco Park, Arwa Cave, Kharmma Stone.

Appropriate time to visit Cherrapunji
The real beauty of Cherrapunji is captured on a rainy day. Because at this time all the fountains are full of water. And so the rainy season is the best time to visit Cherrapunji in the state of Meghalaya. That said June-August is the best time to visit Cherrapunji. You can also go any time from May to October. In winter (November to February) Cherrapunji gets very cold and so for tourists this time is off season, the temperature is only 5-15 degrees. Even though the springs are dry then, in winter, another beauty of Cherrapunji is seen. So choosing the right time, you can go to Cherrapunji as an opportunity.
How to get there
If you want to go to Cherrapunji by Shyamoli transport, Shyamoli's bus will take you to Shillong. And from Shillong you can easily go to Cherabazar by car or taxi.
Or you can come to Sylhet by bus or train from Dhaka. Tamabil by bus or CNG from Sylhet. After completing the immigration, you can take a taxi from Dauki directly to Cherabazar or Shillong for one day and then go to Cherabazar. When you reach the destination, you will not find much to see the beautiful scenery on the winding mountain road.
If you want to go at low cost, you have to go by train from Dhaka to Sylhet and from there by bus or CNG to Tamabil. From there you have to cross the border and go to India Customs Office after completing passport checking at Bangladesh Immigration. After completing the immigration from the India Customs Office, first you have to go to Dauki Bazar and then to Shillong by taxi or mini bus. Then Cherrapunji can be reached by walking some distance after crossing the gate of Wildslake in Shillong.
Apart from this you can go by bus from Dhaka to Sylhet. In that case first you have to go to Sylhet from Dhaka by AC or non AC bus. Buses usually leave between 10-12 pm and reach Sylhet at 5-6 am. Non AC bus fare is 480 rupees. The service of Anna, Shyamoli, Hanif in the bus is good. After that local bus to Jaflong is available next to Sylhet counter. The rent is 75 rupees per person. It will take 1.5-2 hours to reach Jaflong. Then from there you have to go to Tamabil Bangladesh Immigration.
Crossing the Border – Immigration begins at 9 a.m. at the immigration office. A small form has to be filled in the passport office and submitted along with the travel tax slip. Then passport checking is done once at Tamabil passport office. Then again passport checking is done at Tamabil tax office. You have to sign by entering the information of all the electronics items that are with you here.
It is best to travel in a group to Cherrapunji or Shillong. Besides, Shyamoli Paribahan has a 3-day Shillong-Cherrapunji package at Rs 5,100. In that case, they make all the arrangements for the visa. And you can see the whole Cherrapunji by reserving a car without visiting the city of Cherrapunji separately.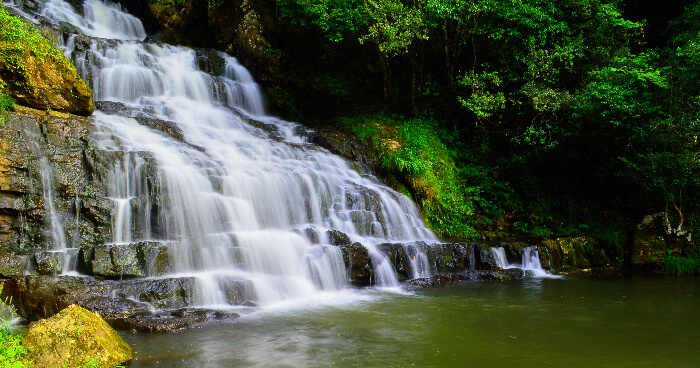 Where to stay
There are several resorts to stay in Cherrapunji. The rent varies according to the season.
Cherrapunji Holiday Resort: Cherrapunji Holiday Resort is 14 km away from Cherrapunji. Rooms here range from Rs 3,200 to Rs 3,650. One of the benefits is that breakfast is included. If you rent a room for four people, you can get less, the room rent for four people is 2000 rupees.
Pala Resort: Rooms here range from Rs 3,650 to Rs 4,950.
Cafe Cherrapunji: There are two ways to stay in the tent and cottage. Tent rent is Rs.1000-2642 and cottage rent is Rs.3500-4,500.
There are also some good arrangements for accommodation like Kutumadan Resort, Polo Orchid Resort, Green Valley Restaurant & Accommodation, Halali Restaurant Cum Lodge, D-Cloud Guest House, La Cooper Inn.
However, if you want to stay in the low cost Sohra Plaza Sohra Plaza resorts are also good to stay. You can also stay in Ningriyat village, there is a home stay arrangement, room rent for four people is between 1000-1500 rupees. Ramakrishna also has a guest house and an American mission to stay. You can spend the night in a double room at the Shillong Police Bazaar for between 800 and 4,000 rupees. Or you can contact Ramakrishna Guest House or American Mission.
What to eat
At Holiday Resort, be sure to eat the local cuisine of Magic Stem Chicken and Chicken Neong. Also like chicken mum, egg roll, vegetable noodles in street food. You will find several food hotels in Cherrapunji to eat the food of your choice. You will find several food hotels in Cherrapunji to eat the food of your choice.
Shopping
Police market is good for shopping. From here you can buy clothes, shoes, bamboo items and chocolates. Apart from this, you will find oranges, honey and cinnamon in Sohra market. You can buy pure honey and various kinds of spices next to Nukayakali Falls. But it is better to buy things from Cherrapunji like food items and any fancy or house decorating show-piece.
Cherrapunji travel costs
All in all, you can travel from Dhaka to Shillong, Cherrapunji for 8000-9000 rupees and come back to Dhaka again. You can easily join Shillong, Cherrapunji, Mausinram, Nartiang and Maolinong tours organized by the Meghalaya Tourism Department. The tour starts from the Tourist Information Center on Jail Road in Police Market. However, if you have 8 to 10 people in your group, you will be able to visit the tourist places by renting the Tatasumo as you wish. There is nothing to be confused about taxi fares as the police can find out the fare by looking at the list at the taxi stand in the market.

Cherrapunji Travel Tips
There is a need for some extra preparation before going to Cherrapunji. As well as packing your bags, you need to make some extra preparations for this tour. The things to keep in mind are-
Cherrapunji is very crowded during Puja and Christmas holidays and it is difficult to get a seat in a hotel. So it is better to skip these two holidays and go at any other time.
Choose clothes that are comfortable and take up less space in the bag when traveling. And take light winter clothes.
Take a traveling or trekking shoe with a good grip to climb the hill.
On a rainy day, since the real beauty of Cherrapunji can be seen, you must keep a raincoat and umbrella with you.
To reach the Rapunzi Double Decker Route Bridge, you have to climb up and down about 2,500 feet of stairs. So be sure about your physical fitness and go in the morning and come back in the afternoon.
All the fountains in Cherrapunji are covered with clouds for most of the day so you can ignore the driver's rush and wait for a while to see the full look of the fountain.
All shops are closed on Sundays, ie weekly holidays.
Necessary money and dollars should be kept with. It is better to endorse some money dollars by calculating how much it will cost. Later you have to exchange money for rupee.
Internet can be a problem, so if you have already downloaded the map offline, it will be convenient to go to different places using only GPS.
If you take a guide with you, it will be convenient to go to different places.
When shopping from the sidewalk, buy at a bargain price.
Be careful when eating street food because there are many foods cooked with pork, so after seeing and hearing the ingredients, you will order food.
Other travel tips
There are other things to keep in mind when traveling –
Passports and visas must be prepared well in advance of the trip.
It is best to keep some photocopies of the necessary papers with you.
In case of foreign travel, the government has to pay travel tax. In case of going to Cherrapunji, the travel tax is 500 rupees. So you have to pay tax before traveling.
It is better to keep extra battery and power bank with you.
Don't forget to take your own separate camera or good camera phone to capture the memories in the frame.
Keep a fast aid box with you at any time.
And on any trip, try to keep your conduct modest and elegant, remember that you are the representative of Bangladesh in a foreign country.
Some required phone numbers
Shillong City Police Headquarters: 91-364-2224400 / 91-364-2224100. For information about Cherrapunji, contact: Meghalaya Tourism Department, Phone: 91-364-228220. Detailed information can also be obtained by calling the Indian Tourism Department. Phone: 91-364-225632.