Hundred year Tajhat zamindarbari
Hundred year Tajhat zamindarbari
Tajhat Zamindarbari of Hundred Years of Fame in Rangpur. 
Although many of our achievements have been lost in the passage of time, Tajhat Zamindarbari still survives. 
Its location is a short distance from the city. 
It takes about half an hour to go by rickshaw. 
During the holidays, you can easily visit the hundred-year-old Tajhat Zamindarbari of Rangpur.
location
Tajhat Zamindarbari is a historic palace located in Tajhat near Rangpur city in Bangladesh, which is now used as a museum. It is an attractive place for the tourists of Rangpur. The palace is located three kilometers south-east from Rangpur city.
That's why it's famous
In the 20th century, the house of Gopal Lal Roy, son of the patriotic zamindar Gobind Lal Roy, in the Mahiganj Tajhat area of ​​Greater Rangpur, is a wonderful example of ancient architecture. He built the palace in the early 20th century. He was a goldsmith by profession. In the middle of the 20th century, King Gopal built a zamindarbari with the help of about two thousand masons. That house is now well-known as the Tajhat Zamindar house.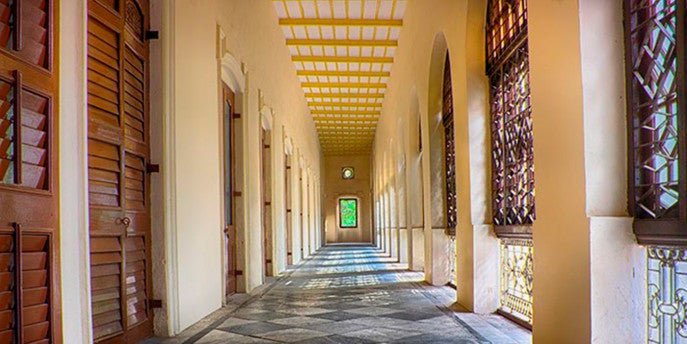 Whatever you see
Preserved in the palace are various manuscripts, old newspapers, statues of Shiva's consort Parvati, earthenware, various terracotta plaques, items used by earlier kings, pottery, teak wood box used by Sarala Devi, the leader of the Praja rebellion, Mangalkot/Sitakot (Bogra), collected from Mahasthangarh. Various terracotta plaques. Apart from this, there are iron articles, arrows used by Santals, red stone fragments, female idols collected from Paharpur Vihar, stone shovels, vessels, statues of aggressive warriors. Manuscripts supplied by Sahitya Parishad Rangpur include Mahabharata, Ramayana, Chaitanya Charitamrita, Shanti Shatak, Sanskrit manuscript written on tree bark, Begum Rokeya's handwritten letter, manuscript on flat paper, Emperor Aurangzeb, poet Sheikh Sadi and Badshah Nasiruddin's handwritten Koran Sharif, small There is also Quran Sharif.
how to go
Buses of different types of transportation leave for Rangpur from Gabtali, Kalyanpur and Mohakhali bus terminals of the capital every day. The fare will be Tk 550-1200 per passenger depending on AC, non-AC. However, if you take the Kurigram bus, you can get off right in front of the museum. Apart from that, a rickshaw is available from Rangpur bus stand to go to the museum for Tk 20. And if you go by auto, it costs 10 taka.