You can visit 7 interesting tourist centers of Rangamati
You can visit 7 interesting tourist centers of Rangamati
Want to forget the tiredness of the traditional lifestyle and spend some time alone among the green hills, beautiful lakes and simple living tribes? You can visit some of the interesting tourist centers of Rangamati to enjoy these flavors of nature.
Rangamati is one of the three districts of Chittagong Hill Tracts. If you start your journey from Chittagong, you will reach Rangamati after crossing the road of 77 km. Let's take a look at seven attractive tourist spots of Rangamati.
Kaptai Lake
Are you a wanderlust always looking for adventure? If the answer is yes, then kayaking or boating in Kaptai Lake will give you a different thrilling experience. The man-made Kaptai Lake surrounded by plains and hilly forests has almost all the features of heavenly natural beauty. By traveling by water you can visit Kaptai Dam, Rangamati city, Rangamati suspension bridge, Naval Academy, Shublong Jharna, Karnaphuli River, Sheikh Ecopark and other beautiful tourist spots.
You can directly go to Kaptai from Syedabad or Kamalapur bus stand in Dhaka. It will take seven to eight hours. Besides, you can go to Chittagong by train from Dhaka and go to Kaptai from there.
Shubolang Jharna
Shublong Jharna is located just 25 km from Rangamati city, next to Shublong Bazar. Although the water is less in the dry season, in the monsoon season, a huge stream of water from the 300-feet high Shublong Jharna flows into the Kaptai Lake. Apart from this, on the way to see Shublong Jharna, the beauty of its surroundings will also enchant you. Near Shublong Jharna is the towering Shublong Hill.
You can explore this place by taking a speedboat trip to Kaptai Lake. You can hire speedboats from Rangamati Reserve Bazaar or Tourist Complex. Based on the capacity, its rent will be from 1,200 to 3,000 taka. You can also rent a boat to reserve or share with others. It usually takes about one and a half hours to reach Shublong from Rangamati.
Rajban Vihar
As soon as you set foot in Rangamati, you can feel the purity of the nature here, which will help to remove all the worries from your mind. You can visit one of Rangamati's oldest Buddhist temples, Rajvan Vihar, to calm your mind.
Although the Vihar is located in the heart of Rangamati city, the mechanized noise of the city is absent here. Rajban Vihar is surrounded by Kaptai Lake and the green banani of the hills. Rajban Vihar can be reached in a short time from Reserve Bazar in Rangamati by water or by road around the stadium.
suspension bridge
One of the main attractions of Rangamati city is the hanging bridge. This 335 feet long bridge over Kaptai Lake at the end of the city is the most attractive to tourists. This bridge is called 'Symbol of Rangamati'. This spectacular bridge has established a spiritual connection between two isolated mountains. The beauty of Kaptai Lake can be seen from this suspension bridge.
The location of this hanging bridge is just five kilometers away from Rangamati city. You can hire a CNG autorickshaw or a private jeep to get around from here.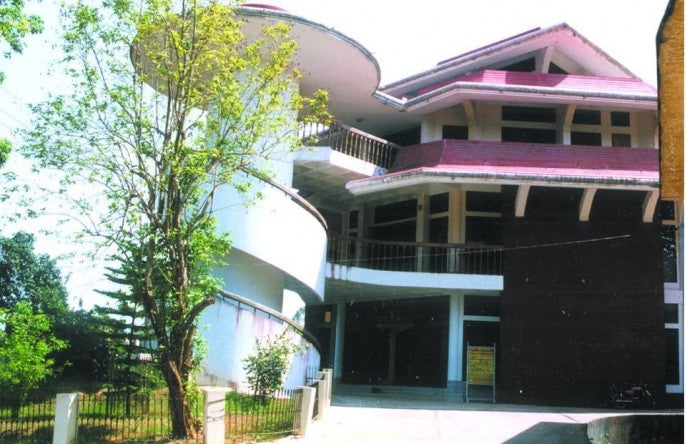 Cultural Institute Museum
If you are interested in learning about the life and culture of the tribals, you can visit the Rangamati Cultural Institute Museum. This museum was built with the aim of preserving and developing the traditional culture of the various tribal people of Rangamati hill district. There are traditional jewellery, clothing, utensils, weapons, pictures, paintings, sculptures, ancient coins and musical instruments used by various tribal communities.
Established in 1978, this museum is located near the entrance of Rangamati city. You can go here by rickshaw from the city.
Peda ting ting
There are numerous small islands around the vast Kaptai Lake and the hills. Peda Ting Ting Restaurant is located on one of the islands. This is an excellent restaurant for the discerning traveller. The taste of the food cooked by the natives here is incomparable. A trip to Kaptai Lake would be incomplete without tasting the food at Peda Ting Ting. The restaurant is famous for the local dish Bambu Chicken (delivered in bamboo).
Its location is few kilometers away from Rangamati city. You can visit the famous Peda Ting Ting restaurant by boat.
Kaptai National Park
Located in Rangamati district, Kaptai National Park was established in 1999 by the Bangladesh Forest and Environment Department covering an area of ​​5,464 hectares. This park was planted in 1873, 1878 and 1879. As a result, a tropical rain forest was formed here. Kaptai National Park has a variety of fauna including deer, elephants, wild cats, clouded leopards, monkeys. Several endangered species of birds are also found here. Kaptai National Park can be reached by rickshaw from Rangamati town.
Rangamati means the state of immense natural beauty. The beauty of Paharikanya Rangamati is like the wings of a bird in every season. Rani Rangamati, who is bound in the close embrace of nature, has many varieties to wear. The deep forest, hilly nature of Rangamati is endlessly attractive to tourists.